Tournament Kit Installed Tournament Kit in stock
The tournament kit is a necessity for any tournament boat - no outboard motor and large fins
on the bottom. The kit provides extra clearance necessary for these boats to avoid bumping the
lift with its fins or prop. It also supplies guide posts that make maneuvering onto the lift easier.
Some tournament boats have larger-than-usual fins on the bottom of the boat called Gorilla Fins.
In this case, Gorilla Brackets are needed which add even more clearance.
Big Boat Kit Precision Alignment to match existing LBL
PWC Kit Added PWC Kit Added Side Loader
With a Leisure Boat Lift, the standard lift kit can be taken off and exchanged with a PWC Kit.
These kits accommodate any Personal Water Craft and come in two styles; a side loader, or a front
loader. They work no differently from a Leisure Boat Lift and requires the same maintenance and
care as a regular lifter.
1 style of Patio Boat Kit installed
Supporting any standard model of patio boat, our patio boat kit for the Leisure Boat Lift provides
sturdy support for any pontoon patio boat. Two large cross beams support the patio boat safely and
securely. The lift works no differently from a standard Leisure Boat Lift and requires the same
care and maintenance.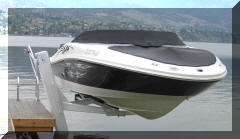 Manual Crank Wheel
Any manual lift can be converted by our crew into an electrical lift. We wire and detail our electrical
drives ourselves and takes about an hour to complete the conversion. If you've got an electric drive
conversion on your mind, first find out if you're able to get power to your dock - whether it be through
dock wiring or the use of a portable generator. Before using an electrical lift, consult your owners' manual
and keep an eye on the lift during use. Lower your lift in increments (not all at once) so as to ease the work
load of the brakes within the chain hoist.
If you are having trouble with or are unable to add power out to your Leisure Boat Lift and cannot run your Electric Drive Conversion
there are a number of different gas engine power inverters available for use.
We have a short, windy video demonstration of using a generator with your lifter.
We can get you in touch with a supplier upon request.
Electric Drive Kit Assembly Limit Switch Technology Reversing and Analog Remote
Research and development Drum Lever Type Wobble Switch Type
Pricing Includes The Taxes - (we submit the tax)
| Description 2013 | 2013 Description | Price 2013 |
| --- | --- | --- |
| Standard LBL | Manual Leisure Boat Lift | $9,200.00 |
| Electric Drive LBL | Motor-Powered LBL | $11,335.00 |
| Deep Water Application Kit | Kit for sites up to 20 ft. depths | $15,500.00 |
| Electric Drive Conversion | Manual to Motor | $2,275.00 |
| Tournament Kit | Lift Kit for Tournament boats | $1075.00 |
| Big Boat Kit | Guide Kit for wide, flat Boats | $950.00 |
| Personal Water Craft Kit | Kit for PWCs | $2,550.00 |