Leisure Boat Lift
Lasting Ownership
Seasonal Review
For many boat owners, winter is a concern. Winterizing your boat, where to
store it, and keeping it safe in general. Leisure Boat Lift provides all of these. It is resilient to the
polar dip, and nicely goes with the flow in the face of frozen lakes. Once the ice had melted,
photo 2 has the boat and lifter 20 feet closer to shore, most of the dock piled on shore.
Two seahorse docks and 3 Leisure Boat Lifts are pictured below, all of them facing the onslaught the
winter can bring to the lakes. The photo on the right may seem like a dire situation, but that lift was in perfect
condition in the spring time. It only took a minimal cost of maintenance time to plumb and straighten the Seahorse dock
supports after the ice was gone from the lakes. All the Leisure Boat Lifts are just fine.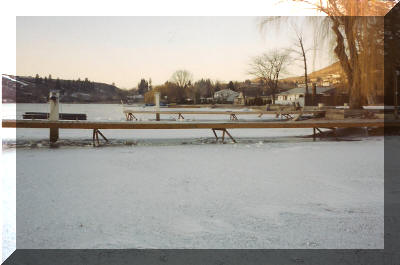 Ice expansion. Seahorse Dock Supports fabricated to go with the flow.
Carpet bunks were taken indoors and the Leisure Boat Lift covered and wrapped.
If it were below freezing, refer to photo 2.

Aside from the obvious benefits like safety from winds, waves, storms, many years
of usage, an appealing look, ease of use, and complete protection of your vessel.
Leisure Boat Lift has a long list of credentials meeting custom requirements, also.
LBLs can be modified, customized, and detailed to hold any type of craft. Not
only that, but every LBL order can be customized to how your lake front demands.
Custom fabrication must be "Advance Order" by up to six months.
Compilations of components we custom build, must be ordered a full season in advance.
They are brought to life during the off-season and installed 'first off the line' in spring.
One of our most noticeable custom LBL is one that is an adaptation to brace, support,
and steady a once-unstable dock. (It's construction began in deep water only to find 8 feet of mud.)
Instead of your standard Leisure Boat Lift X-Base pedestal, the Project required
modified subsurface 'grid iron'. Pre-measured, fabricated, sand blasted and epoxy coated.
It extends to both sides of this dock, creating an extremely strong and stable steel
support. The rest of the project assembles as a regular Leisure Boat Lift.

This process is just one example of all the possibilities that come with the Leisure Boat Lift
idea. If you feel that something needs to be tailored to suit your preferences, contact us in the off-season
our specialized crew and vast array of equipment can get it done.