Manufacturer: DNR Specialty Welding Ltd.
Incorporated in Vernon, British Columbia, Canada, in 1980,
manufacturing and welding specialized applications.
Solely dedicated, since 1985 to Leisure Boat Lift.
There are over 1500 lifts on 18 lakes,
with client connections in New Brunswick, down to

Santiago, Chile. The unique design has revolutionized the

marketplace of private mooring. Leisure Boat Lift was developed

out of necessity. Boats have become a major financial

investment and should be enjoyed with peace of mind and very

little maintenance. We have introduced a lifter which is strong

and simple in design. 2013 models unveiled June 1 or sooner.

Feature Videos>>Check it out >>> Click below
http://www.youtube.com/watch?v=z3Ti84nZTmo
http://www.youtube.com/watch?v=pqejHAGeEDQ.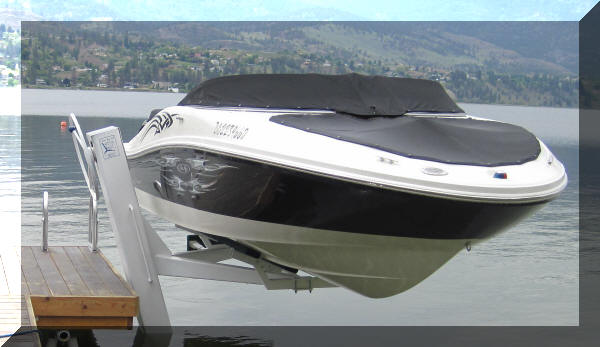 Refurbished LBL 2012 in the photo.
"Sprucing up". Carpet and epoxy coating. Not a bad idea. Bookings for early Summer.