since 1985, our product has proven its capability and reliability. This unique design and appeal has revolutionized the boat lift market place.
Testing of every component shows this boat lift to be more versatile and complete over any other type of boat lift. Leisure Boat Lift was created out of the necessity to protect the major investment of a boat.
Boats are becoming more and more valuable and expensive with each season, especially with the rising popularity of tournament ski boats.
Lake front property should be enjoyed with peace of mind and very little maintenance.
We have introduced a lifter that is not only strong and appealing in design, but very simple and subtle. It offers many built in features demanded in today's market place.
Note worthy, Leisure Boat Lift has been copied (without license) in Ontario since 2001. Note, 'has been.'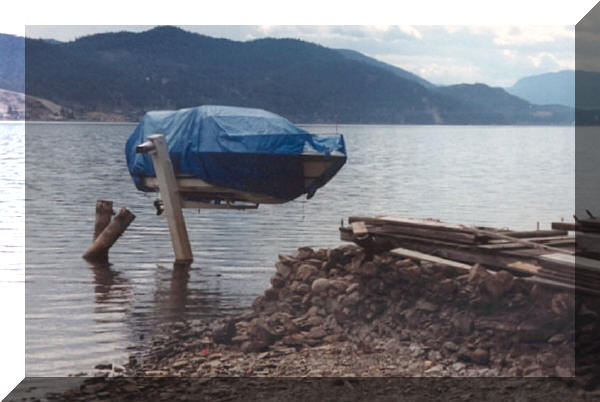 Leisure Boat Lift unscathed..... Piling Dock Destroyed. Leisure Boat Lift unscathed.... Dock end section destroyed.
Leisure Boat Lift is manufactured in Vernon, B.C., by us, DNR Specialty Welding Ltd.
We do business with 17 reputable suppliers and venders. Our company has no other Sales Persons and there is no middle man.
A bold statement in our 27 years of fending for ourselves.

Leisure Boat Lift is free standing & self-supporting in the lake bottom for us in fresh water. It is perfect for every day use (drive on, drive off, any time.) No need to tie up / anchor the boat. Hoist it up day or night, spring or fall. Winter storage is perfectly fine with Leisure Boat Lifts, providing you winterize your boat. Leisure Boat Lift is similar to a fork lift and does not attach to your dock for support.
Its carpeted bunks align under the boat and catch it, creating a 'holster' effect. The lift height gives you safe storage no matter how much normal lake levels rise or fall. Driving onto the lift is easier than navigating onto your boat trailer, without getting wet! The lift mechanism is a chain hoist. Turning the 29" crank wheel is quite easy, at less than 20 ft. lbs. of rolling torque. This means that anyone can help you lift your boat to safety.
24 revolutions of the crank wheel equals 12" of lift height. You can make 48 turns in 1 minute if necessary. 20 turns will have your boat safe and secure. Take time to lift the stern drive of the boat, clear of the lake surface. LBL is great for cleaning and maintaining your boat conveniently next to your dock.
Maintaining your boat at deck height is a pleasure. You won't be interrupted by waves or low lake level access when sprucing up the cutty or helm. LBL will stand the test of time. We use the finest materials and hardware to make sure your boat is always ready to go and always safe for many years out on the lake.
Pricing Includes The Taxes - (we submit the tax)
| Description | Description | Price |
| --- | --- | --- |
| Standard LBL | Manual Leisure Boat Lift | $8,300.00 |
| Electric Drive LBL | Motor-Powered LBL | $10,350.00 |
| Deep Water Application Kit | Kit for sites up to 20 ft. depths | $5,500.00 |
| Electric Drive Conversion | Manual to Motor | $2,275.00 |
| Tournament Kit | Lift Kit for Tournament boats | $985.00 |
| Big Boat Kit | Guide Kit for wide, flat boats | $855.00 |
| Personal Water Craft Kit | Kit for PWC's | $2,550.00 |
Delivery charges will be added to new Kit conversions away from our shop in Vernon.
Leisure Boat Lift web site is private.
No spam. No "link love." No Soliciting.
All correspondence is confidential and kept private.